Convertible for rent for a wedding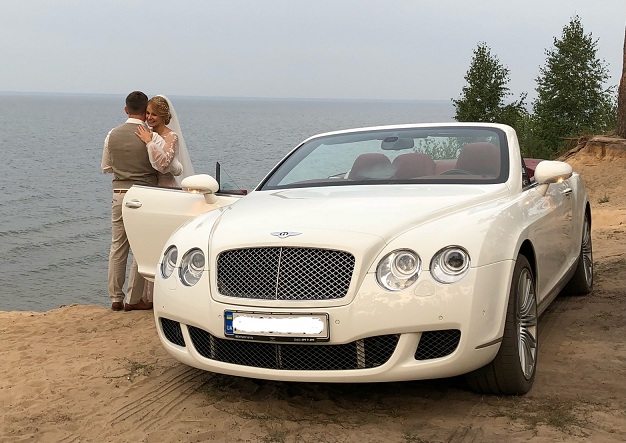 Many couples in love before the wedding present the following picture: luxury cars of the motorcade fly through the central streets of the city, and happy newlyweds wave to smiling passers-by. This scenario is not only possible in Hollywood films with a good ending! Exotic Cars Ukraine knows how to make your wedding unforgettable. We offer to rent convertibles for a wedding, having organized a motorcade, which will become a highlight of identity and a subject of admiration for guests. Who is this option suitable for?
Renting a motorcade of convertibles: pros and cons
When do we recommend renting convertibles in Kiev to accompany your wedding.
The celebration will take place during the warm season.
You want to share your overwhelming emotions with your guests, so that each invitee will enjoy the trip in a stylish open-top car.
You have enough friends over 25 years old and with more than 5 years of driving experience who can drive a rental car. If not, our experienced drivers will accompany your guests.
You love to make a lasting impression on others. After all, a wedding "train" of exotic cars will not leave a single chance to be unnoticed on the streets of Kiev.
Renting a motorcade of convertibles is not the best idea if your wedding is planned for the cold season. It is also not suitable for those who want to be 100% in the spotlight and emphasize the special status of the bride and groom. In this case, it is recommended to rent a car with an open top only for the heroes of the occasion, and it is better to accompany you from stylish sedans and SUVs.
In our rental company you can choose the perfect convertible for rent: for example, a sports car CHEVROLET CORVETTE or elegant BENTLEY CONVERTIBLE. Exotic Kars Ukraine guarantees serviceable, stylish, safe cars for your pleasure. Please note that due to the high demand for convertibles, they are not available for rent on every date. When planning a luxury open-top car rental for your wedding convoy, contact us in advance so that we can book the models you need
---
Created on Aug 4, 2020 in News
Last updated on Sep 29, 2020